Quality and safety
Homolka Obtains SAK Accreditation
Na Homolce Hospital successfully passed the accreditation procedure of the Joint Accreditation Committee (SAK), in which it proved that it meets all quality and safety standards in accordance with the provisions of Section 105 of Act No. 372/2011 Coll., on Health Services and Conditions of their Provision, and Decree No. 102/2012 Coll., on Evaluation of Quality and Safety of Inpatient Health Care. On the basis of this procedure, the hospital was awarded a SAK certificate of the accredited facility.
"I am very pleased that the Czech Accreditation Committee, SAK, has also evaluated and confirmed the high quality and safety of the entire patient care process at Na Homolce Hospital. It is not only an important appreciation of the professionalism and work of our employees, but also an important signal for our patients. I personally thank our medical staff for this," said the director of the hospital Petr Polouček about the audit result.
The SAK accreditation, which is entirely voluntary in the Czech Republic, is issued on the basis of compliance with 97 standards, which is much more than 17 standards prescribed by law. It was already fifteen years ago that Na Homolce Hospital became the first hospital in the Czech Republic to receive the internationally recognised prestigious JCI (Joint Commission International) accreditation, which it confirmed every 3 years during repeated audits.
Homolka has now also gained the national accreditation by SAK, which has a long-term authorisation to carry out quality and safety evaluation of provided health services in the Czech Republic.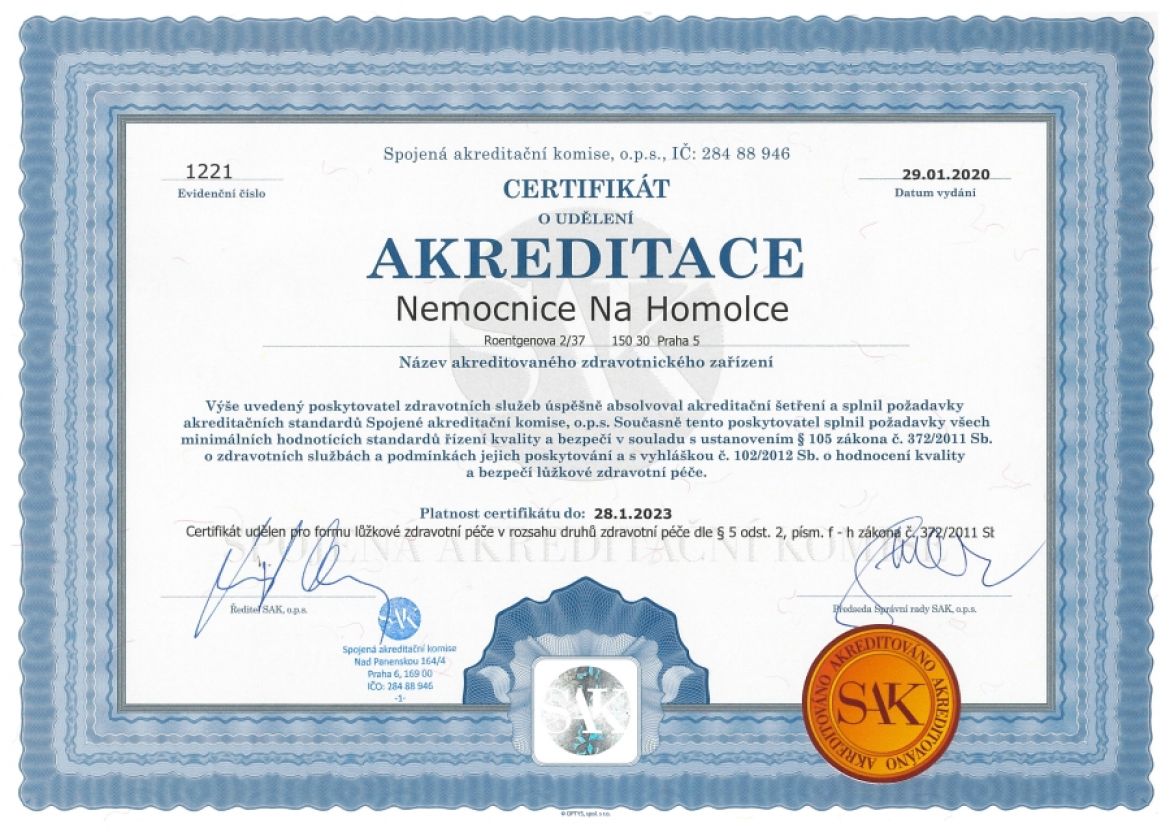 JCI Accreditation (2005-2020)
One of the basic pillars of the stability of Nemocnice Na Homolce has been the quality of the services provided. The effort to provide high-quality health care that is clearly defined by a set of standards motivated Nemocnice Na Homolce to obtain the international accreditation of hospitals by Joint Commission International (JCI) in 2005. We have renewed this accreditation since, at regular 3-year intervals. In May 2017, we again passed international accreditation from Joint Commission International (JCI) which was valid until 5/2020. From 1/2020, the JCI accreditation has been replaced by the national accreditation from SAK o.p.s.
---
Joint Commission International (JCI)
Joint Commission International (JCI) is a worldwide organization with more than a century of tradition that specifically accredits health care facilities. Accredited hospitals guarantee patient safety and quality of care through continuous monitoring, analysis, and improvement of quality indicators in all areas of hospital operation. With JCI accreditation, hospitals must comply with more than 1000 indicators, which have a direct impact on patient safety and error-free medical processes. These indicators are included in specific accreditation standards for all management and in the provision of medical care that hospitals must meet for JCI accreditation. JCI accreditation is granted for a period of three years, after which the medical facility must re-apply for accreditation.