Quality of Care at Na Homolce Hospital
We appreciate you choosing our hospital for your treatment and we hope that you will be satisfied with the care we provide. We would like to take this opportunity to provide some important information about care at Na Homolce Hospital.
The provision of a safe environment and the prevention potential risks were of the most important criteria we had to demonstrate of achieve certification. We constantly strive to improve our system of care and to minimize risk, thereby providing you with the safest treatment.
The following information serves to demonstrate some situations and principles that are used to increase your safety. We ask for your cooperation in their implementation.
1. Repeated verification of your name and identification bracelet on your wrist.
The blue bracelet that you receive on arriving at the hospital holds your name and other important information. By repeatedly verifying this information, we ensure that a given procedure will be carried out on the correct patient. Verification may be carried out by several members of the medical team. This reduces the risk of possible errors to a minimum. Do not be afraid to repeat your name to any healthcare professional providing you with care.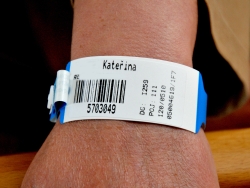 2. Your identification bracelet may be yellow, rather than blue.
Due to your medical condition and other circumstances, the attending nurse concluded that you are at a greater risk of fall during your hospital stay. Injuries due to falls while hospitalized are not a unique phenomenon. There are many causes, especially staying in an unfamiliar environment, the effects of drugs on the body, and of course your medical condition. Nursing staff will provide you with enough information about the risk of falls and how to minimize injuries. Carefully follow the instructions you receive. If you do not have enough information about your care, please ask a nurse.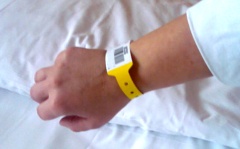 3. Before the therapeutic or diagnostic procedure, the doctor confirms the correct side of the body and accuracy of the marker indicating where the operation/procedure will take place.
This measure is performed for procedures involving paired organs (e.g. the limbs) as part of the safety process before diagnostic or therapeutic procedures. You will also complete the Verification protocol with a doctor or nurse, which again serves to confirm the correct side of examination. Labeling is carried out with washable marker. This is not only a depiction of the surgical incision, but a marker indicating the part of the body and may be checked again before beginning the procedure.
4. In the performance of more complex diagnostic or therapeutic procedures, signed, informed consent of the patient is required.
On this form, you will find information about the procedure and its potential complications. Please read it carefully. If you do not understand the explanation provided, contact your doctor.
5. Doctors and nurses disinfect their hands before and after any physical contact with you.
This serves to reduce the transmission of hospital-related infections (nosocomial infections), which could significantly complicate your recovery and prolong your hospital stay.
6. Become an active participant in your treatment:
Ask! If you do not understand the answer, ask again!
Make sure that you are receiving the correct medication/treatment.
Ask about your medical condition, results and treatment plan.
Keep track of what medications you are taking and why!
7. Second opinion
You have the right to request a second opinion (opinion of another doctor), whether in terms of diagnosis, or the proposed diagnostic or therapeutic procedures. Your treating physician will take a second opinion into consideration.