Quality and safety
Homolka has received SAK accreditation
The Na Homolka Hospital has successfully passed the accreditation investigation of the Joint Accreditation Commission (SAK), in which it proved that it meets all the standards of quality and safety in accordance with the provisions of Section 105 of Act No. 372/2011 Coll., on Health Services and Conditions of their Provision, and Decree No. 102/2012 Coll., on the assessment of quality and safety of inpatient health care. On the basis of this investigation, the SAK Commission granted it the certificate of an accredited workplace.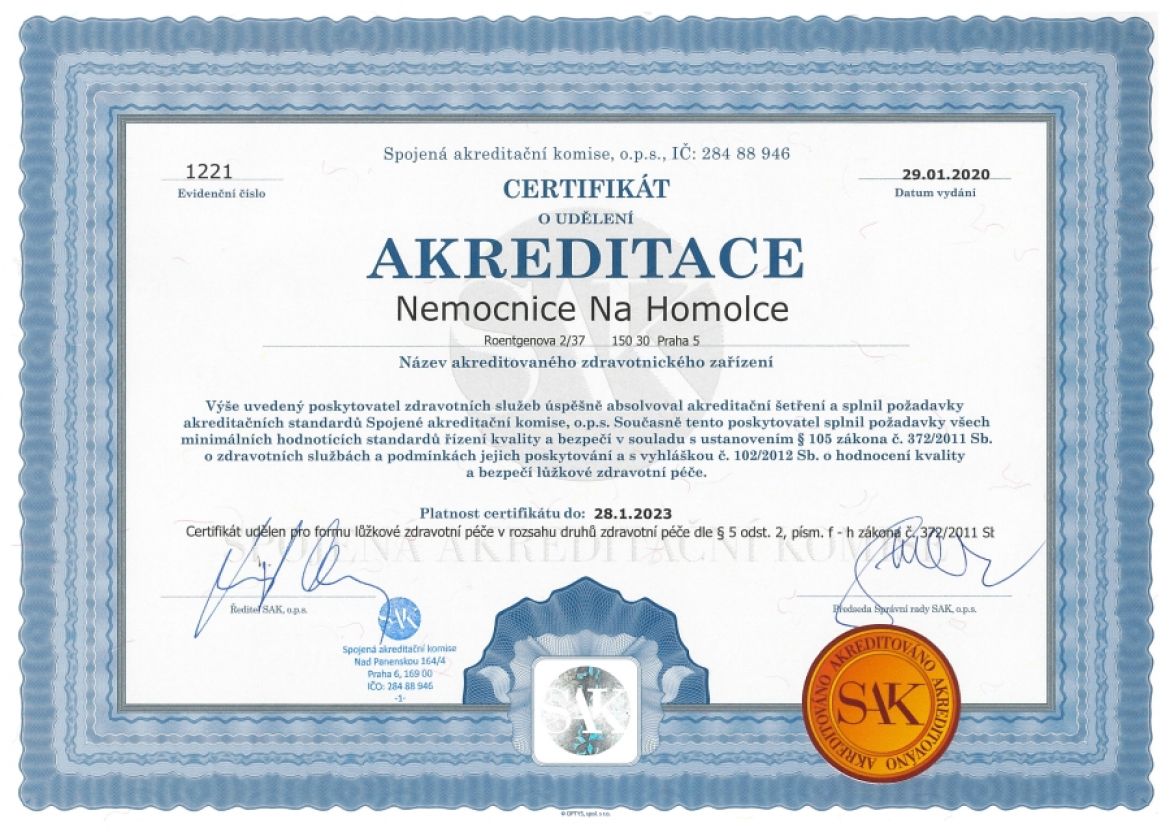 Our patients rated us as "A
Last year, our hospital conducted a survey of patient satisfaction with the quality of care provided. Based on the results of the patient survey within the Quality through Patients' Eyes project, we received the highest quality grade - the so-called A+ rating.

JCI Accreditation (2005-2020)
One of the basic pillars of the stability of Nemocnice Na Homolce has been the quality of the services provided. The effort to provide high-quality health care that is clearly defined by a set of standards motivated Nemocnice Na Homolce to obtain the international accreditation of hospitals by Joint Commission International (JCI) in 2005. We have renewed this accreditation since, at regular 3-year intervals. In May 2017, we again passed international accreditation from Joint Commission International (JCI) which was valid until 5/2020. From 1/2020, the JCI accreditation has been replaced by the national accreditation from SAK o.p.s.
---
Joint Commission International (JCI)
Joint Commission International (JCI) is a worldwide organization with more than a century of tradition that specifically accredits health care facilities. Accredited hospitals guarantee patient safety and quality of care through continuous monitoring, analysis, and improvement of quality indicators in all areas of hospital operation. With JCI accreditation, hospitals must comply with more than 1000 indicators, which have a direct impact on patient safety and error-free medical processes. These indicators are included in specific accreditation standards for all management and in the provision of medical care that hospitals must meet for JCI accreditation. JCI accreditation is granted for a period of three years, after which the medical facility must re-apply for accreditation.